Stadium FC Smederevo
Project author:
Janko Zivadinovic
Construction authors:
Ph. D. M. Ivkovic
Drago Ostojic
Project engineer:
Slobodanka Kracun
Author of geomechanic project:
Institute for geotechnics and geophysic
Contractors:
KMG "Trudbenik" Beograd H.P., "Rad" Belgrade H.P,. "Jugovo" Smederevo H.P., SD "Partizan" Belgrade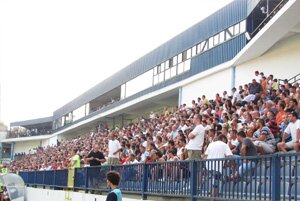 CONSTRUCTION HISTORY

- Locker-rooms building : 1993, 1994
- South and lower part of east stand: 1996
- West stand and "Towers": 1998
- Upper part of east stand: 1999
- Main pitch and north stand: 2000
Whole facility now consists of football field, four stands, two half-rounded buildings and building with locker rooms under the north stand. Apart from ordinary seats, VIP lodge and journalist boxes are also located on the west stand. All approaches are horizontal or from slightly sloped walking ramp. All stands are made of reinforced concrete components mounted on solid cast components: pilings, diaphragms, bracket arms and pillars.
Stadium has shape like close shell with total of 17200 seats .

Author of this project in future construction planed to cover all stands with steel arch with span of 160m, circular shaped object called "vidikovac", two spare pitches behind east stand, tennis courts behind south stand as well as access roads and parking lots .